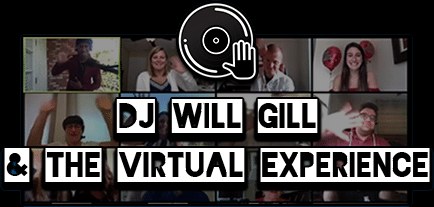 Every Virtual Event Should Be A Virtual Experience.
DJ Will Gill and his Virtual Team produce one of a kind online parties for friends, families, and co-workers. Whether it's a zoom dance party, a head to head game show, or team building activities, we can be socially distant and still have fun! Check out the intro video below and read on to learn how to plan your own online dance party.
How Does A Virtual Party Work?
For each virtual event, clients choose one of three formats based on their guests' taste, time, and attention span:
Virtual DJ Set
It's an all out dance party. Curated for graduations, date nights, virtual wedding receptions, and birthdays. Includes a radio friendly and request friendly DJ set plus emcee engagement.
Virtual Game Show
Looking for something more competitive and interactive? This experience includes both physical and mental challenges. Make sure to bring your thinking cap and your running shoes.
Virtual Variety Show
If you want an all out experience, explore our Virtual Variety Show options. This experience includes an interactive emcee, game show, and a DJ set. Plus choose one add-on from a variety of performers such as comedians & magicians or instructors like chefs & personal trainers. It's a virtual party full of variety, engagement, and entertainment.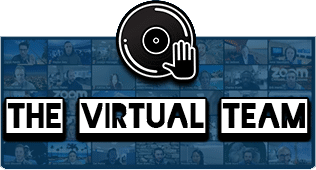 To provide the best experience, we treat each virtual party as a production. We have a virtual staff working behind the scenes to manage the technical aspects of the video call. This includes camera operations, game show production, video and chat security, and one-on-one technical assistance before and during the event. Virtual Team size varies with each event and guest count.
How To Book A Virtual Party DJ?
Send us brief info about your virtual event via our Contact Page.
Whether you are planning a virtual corporate event, a hybrid micro wedding, or just a reason to keep people dancing, we look forward to showing you how to host a dance party! PS, Here are clips from some of the best private and corporate virtual events we're honored to host and DJ so far. See video below:
---
---
How To DJ On Zoom
To book your DJ for zoom party, please see top of page. Fellow DJs and Producers, if you want to learn how to DJ directly on Zoom, below is a quick step-by-step guide. Knowing that music is the universal language, there are many tricks and tweaks in how to turn your house into a dance party. This guide will serve as a quick-start checklist to get you up and running your first Zoom DJ party sound check.
Connect MIDI Controller

Pioneer DDJ SR2 Midi Controller

Plug your midi controller into your USB port.

Some of the best DJs use turntables. However, for the sake of this article, we are using midi controllers. My go to for zoom DJ parties is the Pioneer DDJ-SR2. You can see me using it here.

Activate DJ Software.

Serato DJ Pro via Mac OS

Start up your DJ program prior to activating Zoom.

You could use Virtual DJ or Traktor, but in my opinion Serato is king. Debate me on my instagram :-p

Activate Zoom.

Zoom via Mac OS

Start up Zoom desktop application after fully loading up your DJ software.

Make sure you have the most recent version of Zoom. In addition to security updates, they're also making adjustments to benefit those learning how to DJ on Zoom.

Set Output Settings in Zoom

Zoom Output Settings

In Zoom, set microphone to your midi controller.

There are many ways to capture audio within Zoom. How your audience will hear your DJ set in zoom depends on this setting. Your default setting is most likely your computer mic. Because your system will detect your midi controller if it has a record out function, it should appear here. Set this as your microphone.

Enable option to turn on original sound.

Zoom Audio Advanced Settings

In the Zoom app, go to Settings/Audio/Advanced and check the box to enable original sound, as well as disable both "Suppress" options.

Above all, having clear sound is key. Backdrops, camera angles, and swag is a close second, but your DJ set means nothing if the sound is not at its optimum. The Zoom "of olden days" may have settings set to protect your call from echo and high transients. Even if you know how to DJ, your Zoom call won't sound like it on the other end if your set is overly compressed and flat. Make sure that you have enabled the option to preserve original sound within Zoom. You can find that under your Meeting settings within the advanced section. More details here.
Result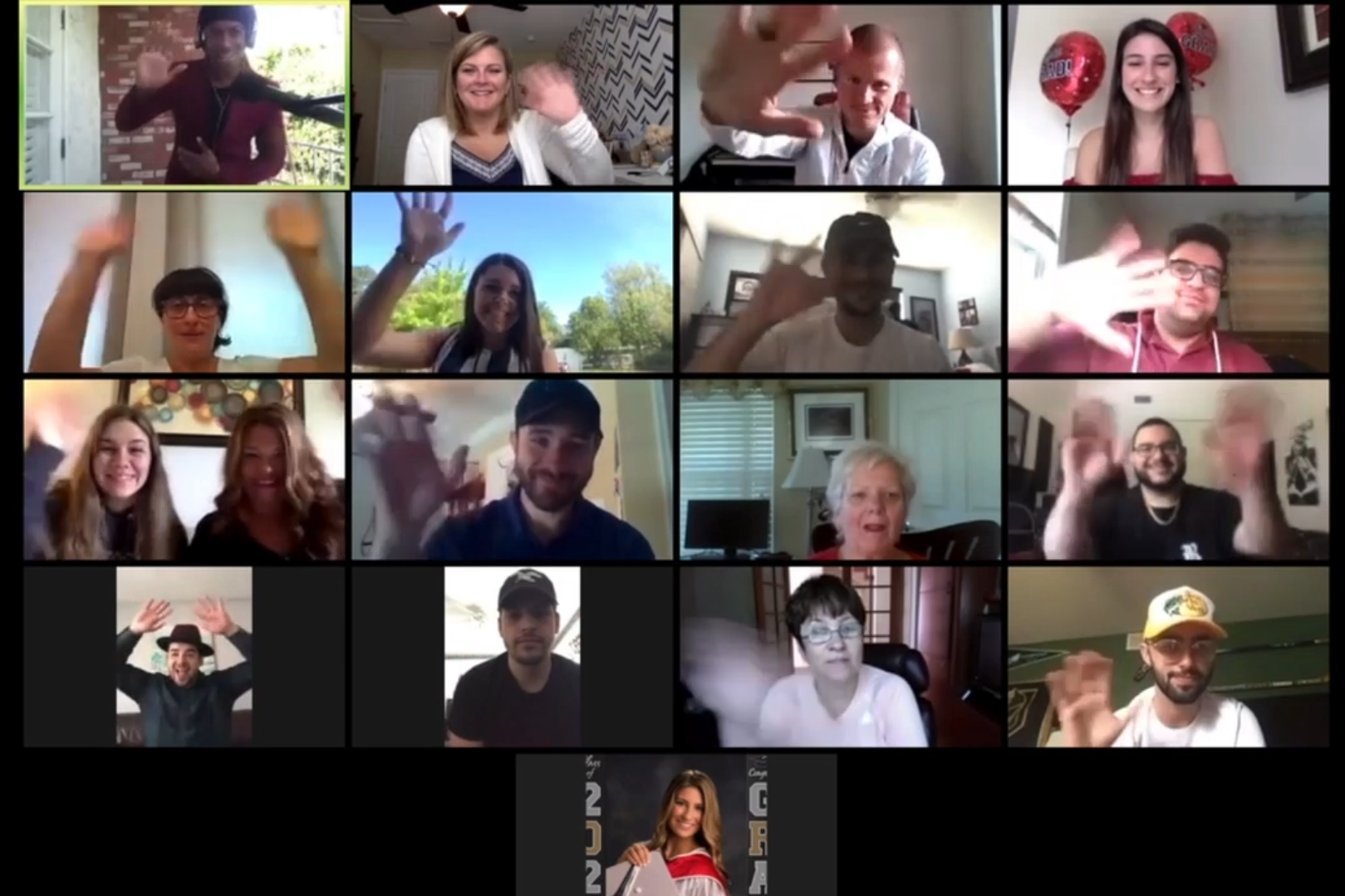 That pretty much sums up the quick and easy start to becoming a DJ in zoom, but how to actually DJ is a topic for another blog. Before you go live with your friends, family, or even clients, make sure you do a sound check.
How To Sound Check Before Your Zoom Dance Party
If you are ready to DJ your own party, I can't stress this next fact enough: Before you stream live to your quarantine audience, you want to make sure the end-user will not only hear clear sound, but sound in general. Take a look at the image below. Can you tell why the young lady won't be heard by her friends and clients on the Zoom call?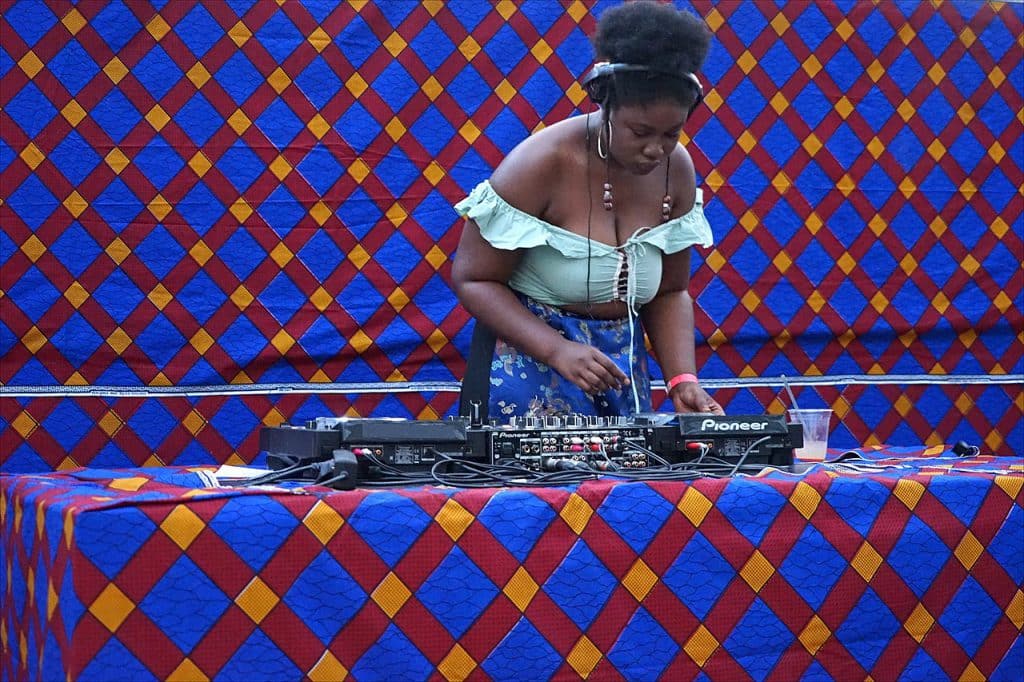 If you answered "her DJ cables go nowhere", Im sorry, but the answer we were looking for was "there's no laptop running Zoom".
If having a laptop (or mobile device using a streaming interface like I-rig Stream) is how to DJ in Zoom. Then having a second laptop or mobile device is how you will run sound check.
Here is the easiest way to sound check your audio settings in Zoom:
Create and begin a Zoom call.
Note the call's login (and password info, if applicable).
Login to the same call using a second laptop. Likewise, a mobile device works as a secondary device.
Connect your secondary device to wired headphones or airpods. This will prevent feedback. Furthermore, it will let you listen to how the stereo aspects of your DJ set sound in Zoom.
Play a song from your DJ source. In addition, speak into your microphone. Make sure everything is peachy.
Finally, go out there and get a few socially distant fans off of their couches!
Zoom DJs vs DJ Zoom
I added this section because sometimes looking for a party DJ online can bring up brand specific local DJs with lucky names. A few DJs have names not related to Zoom or quarantine parties. They might not even have Zoom accounts! To all the DJs, emcees, and artists around the world who are named DJ Zoom, I want to make sure I give you credit where is due.
During the coronavirus (COVID-19) pandemic and subsequent quarantine, people reached out to my site looking for DJ Zoom. It is to my understanding that DJ Zoom, for weddings, is a local based DJ in Memphis who throws a variety of live parties. When it comes to Zoom parties, Twitch, OBS, and other live stream parties, I cant vouch for their virtual services.
Most of these cross-branded DJ inquiries happen during coronavirus spikes (two since writing this article). So it made sense that alot of love goes to DJ Zoom NYC and The New York Times who brought virtual passers-by out west to Los Angeles, where my company is based. Their brand is more up my alley for the simple fact that we both virtual DJ to keep people throughout the world going during these uncertain times. I can bet DJ Zoom NYC holds a Zoom account and at least OBS, if not Twitch.
In the end, our responsibility as entertainers is to bring the dance party to every wiling person around the world during the coronavirus pandemic. We are fortunate to have so much digital music at our fingertips in whcih we can stream live. As some of the best DJs, we are blessed to be able to broadcast our talents everywhere.
I'm no branding expert but I feel like it makes sense to reach out to every DJ Zoom abroad and see if they all want to come to one Zoom account for the most epic zoom virtual dance party ever live streamed. We all know people are searching it on Google!
DJ Will Gill is an American DJ and Personality.

– Wikipedia.org
Online party DJ Will Gill acquired ZoomDJs.com at the start of the pandemic after the event and television industry went on hiatus. He has since pivoted to bring his award winning positive sets to the world of corporate DJ virtual parties. Virtual Happy Hour DJ meets the corporate world with DJ Will Gill and his online party team.
Many of his wedding clients have pivoted to micro weddings where DJ Will Gill provides Zoom streaming DJ sets for the extended small wedding party. This includes a 2 hour event with ceremony, cocktail hour, and dancing where permitted.
"He is the most versatile virtual event DJ near me" – Stacy Greenberg
There are no right or wrong ways to put on a virtual party. Most virtual events are 60 minutes, but some of the best virtual party DJ sets come in around 40 minutes! Book a DJ today and we'll get you squared away.
Home \ Zoom DJ Party \ Zoom DJs Virtual Parties