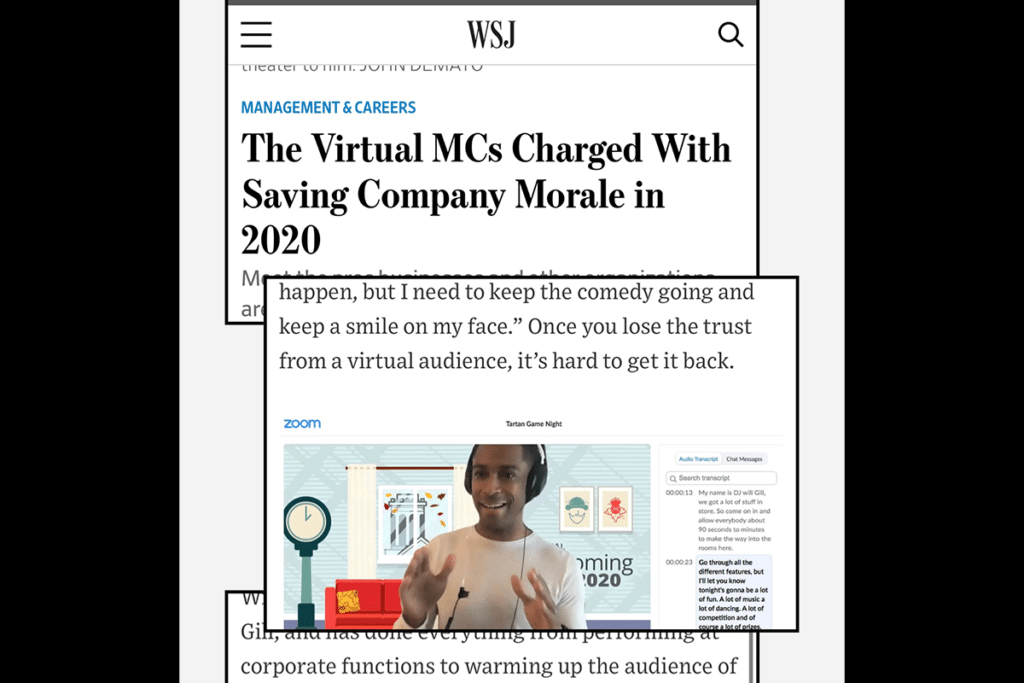 How To Host A Virtual Event: 8 Great Steps
2020 was the official year of cancelled events. This included everything from festivals to family functions. Eventually, cancelled events became virtual events. As the world pivoted to virtual, we soon learned that there are great perks to hosting an event online. If you are wondering how to plan and host a virtual event, the following steps will get you set for online success.
60 Minutes Is The Sweet Spot

DJ Will Gill hosts a virtual corporate event for international clients in Singapore, Zurich, and locally in the US.

For the highest level of engagement and entertainment, a virtual event should be 60 minutes max. I have an online contact form for that asks for guest count, time zone, and expected event time. More than half of new inquiries list two to sometimes 6 hours! I will admit that while school parties can go on for hours of straight DJ sets, for every adult with responsibilities and said school kids to tend to, an hour is what I always suggest my corporate clients stick to.

Plan a virtual event with interaction and engagement.

DJ Will Gill hosts a virtual event using engaging raffle wheel

The most successfully planned virtual events are a two-way affair. This means both the presenters and the guests are involved in contributions to the online event experience.

User submissions like Q&A's, polls, and live chat are awesome ways to see who's in tune to the program. Using Zoom's spotlight feature is a great tool to ensure that people feel engaged and are a part of the of the virtual event. During large-scale corporate events, breaking teams off into smaller groups using breakout sessions is a great way to increase engagement and face-to-face interaction.

Add some variety to your virtual event plan. This can include music, video, speeches, acts, trivia and other quick games. Try not to make it just a visual meeting online.

Don't avoid the elephant in the room.

DJ Will Gill and a Steve Harvey cameo at a hosted virtual corporate event for Cyvatar

We are in a pandemic. There are countless cons to what has happened to our planet. Trying to pass off a virtual event as better than an in-person live event is a social faux pas. Go into planning your virtual event calling it what it is: an online virtual event.

Of course, that doesn't mean the theme of an online party has to be about masks and sanitizer. That is to say, don't try and oversell an online event as the event of the millennium.

Host your virtual event on a popular platform.

DJ WIll Gill hosts a virtual conference including Zoom polls and trivia for South Korean clients

2020 saw a boom in virtual event platforms. While Zoom and Instagram Live are the most popular for hosting virtual events, many other have become extremely fun to use, but require the end user to be tech savvy. This includes Wondershare, Streamyard, and Vmix.

Use The 7 Minute Psychology.

DJ Will Gill's critically acclaimed 7 minute psychology when hosting a virtual event featured in The Wall Street journal

The trick to a successful virtual event is to keep each segment, act, and event under 7 minutes. This is where you will lose the busiest of a virtual user's attention.

Incentivize Users.

DJ Will Gill hosts an interactive virtual event using Kahoot trivia

This is an underrated statement. If you plan to keep virtual event users most engaged, you will want some sort of reward for staying on screen.

Prepare your guest speakers.

DJ Will Gill hosts a virtual zoom event with guest speakers

If your virtual event features guest speakers, keep them on a tight schedule. Prep them with pre-determined questions, keep their topics brief and to the point. Q&A sessions work best where the guests have submitted their questions in advance. Less improvisation is more.

Deploy a virtual tech team.

Dj Will Gill at a hosted virtual event using virtual techs to monitor guest list

When I plan virtual events for clients, I always have at least 2 virtual techs working behind the scenes. This includes a team of individuals running spotlight, chat box monitoring, and screen sharing. This allows me as the virtual event emcee to stay focused and engaged in real time with the guests.
In Conclusion
You want an interactive and engaging event. Keep the virtual event to 60 minutes with segments no longer than 7 minutes. This goes for virtual corporate event and online DJ parties. Make sure everyone from vendor to toastmaster is prepped, well rehearsed, and on time. If there are prizes to be had, expect a high turnout with guests on the call for longer durations. Need example timelines or virtual event ideas, feel free to contact me here.
Hybrid Events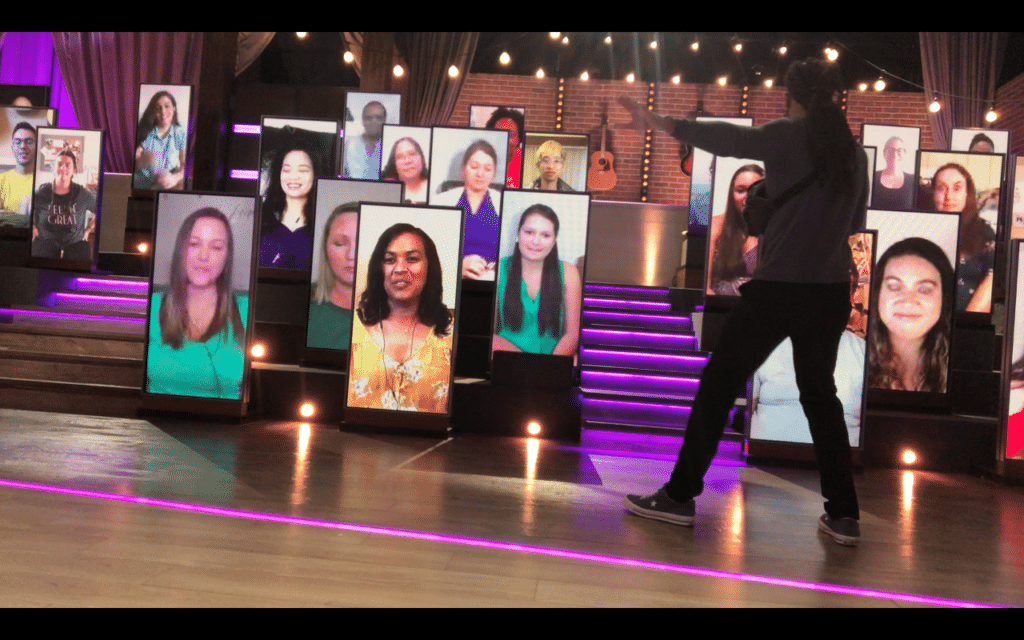 In 2021, in-person events may still be a thing of the future. Until then, corporate events via video conferencing will be the norm. Many event marketing firms are locked in to virtual experiences thanks to platforms like Wondershare and Vmix. Festivals are slated to continue to being live streamed. Team building events during the pandemic are best left to virtual platforms like Zoom, Microsoft Teams, and Google Hangout.
Team members looking for the best way to host a virtual event should first update their event technology. This includes the use of green screens, proper lighting, and microphones. Not to mention, updating to the latest software of Zoom will be key. If you want to know how to host a virtual event online, hiring an experience virtual event planner and event manager will be your first step. Until we can get back to public events, this next phase of digital and physical events will be the hybrid event.
A hybrid event is where a small, often most important, part of your event is in person while the majority of guests in attendance are online. The first of these kind in 2020 were hybrid weddings.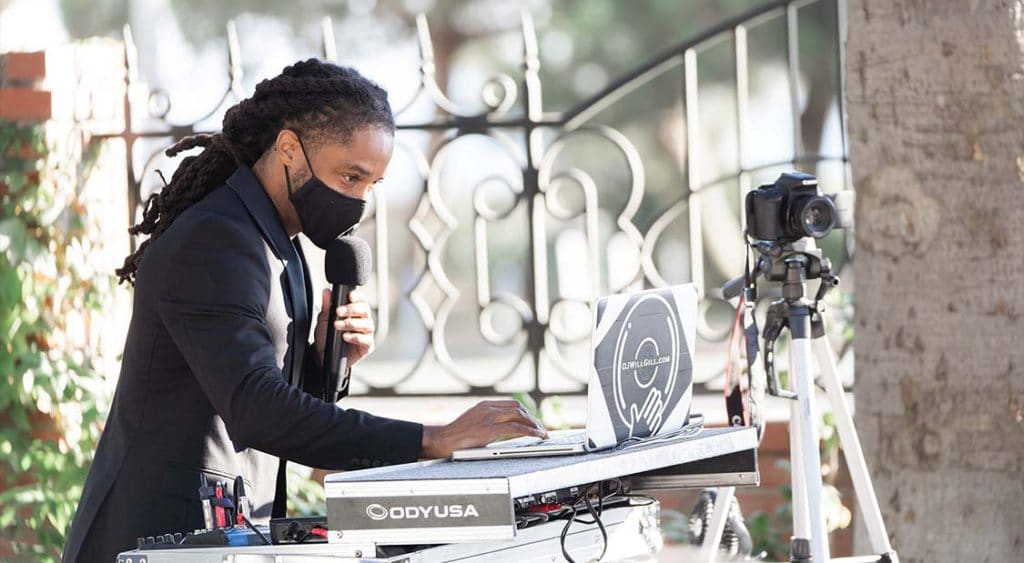 Hybrid events involving wedding couples were huge because one could have families of all ages and locations attend a wedding, despite the global pandemic. Breakout rooms were a huge success because this allowed wedding couples to break off and visit each room as they would "Tables at a wedding". Not to mention, pre recorded speeches could be aired for guests who's time zones didn't fit the actual virtual event time. Using the zoom mobile app, wedding couples could have multiple camera angles to capture all the moments from start to finish.
We learned in 2020 that fun virtual events is a thing. While we don't hope this to last a long time, lets at least have a good time. This article is all about how to host a zoom party. For more tips, check out DJ Will Gill and all of his virtual events on his social media page.
Home \ How To \ How To Host A Virtual Event in 8 Easy Steps