No Two Weddings Are Alike.
Each one has its own independent vibe and soundtrack. From the couple's ceremony, to their first slow dance, to the sparkler send off, music is behind and at the forefront of every memorable moment of their wedding day. Having a professional wedding DJ or band of musicians is one of the most important decisions you will make for your big day.
To help wedding couples filter through the many choices in wedding entertainment, DJ Will Gill has curated the ultimate list of questions to ask before signing a contract. You will be surprised to hear this, but professional wedding entertainers are low maintenance. Once you learn the right questions to ask, the perfect wedding DJ will land on your doorstep. From there, it is easily all about the music.
The Essential Questions
Before you head to sites like Yelp and The Knot, you have to set yourself up with the essential questions. First and foremost, is your ideal DJ or wedding band available on your wedding date? Once that initial question is answered, these following set of questions will bring about the most experienced of wedding entertainers.
Pro Wedding Tip: The more experienced and current a wedding DJ is, the more versatile DJ set they will bring to your wedding's dance floor.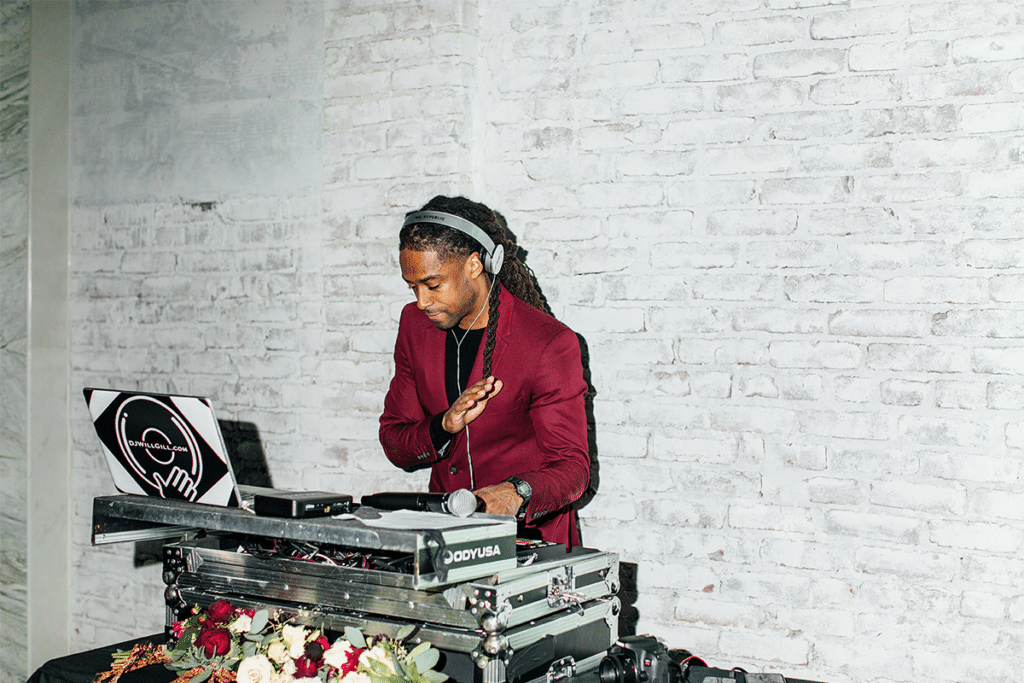 Are you available on my wedding date?
How long have you been in the wedding industry? Why is this important?: There is undoubtedly a difference between a wedding DJ purchased their first set of turntables this year vs someone who has been upgrading and collecting for years. Make sure your wedding DJ or band are well seasoned in both talent and equipment so there are freshman mistakes, made by them, on your big day.
How many weddings have you performed in the last year?
How long has your band (or emcee-DJ team) been working together?
How many weddings do you work in a weekend? Why is this important?: If the wedding DJ or band is playing every Friday, Saturday, and Sunday, their performance might suffer. However, it is worth noting that if a premium or popular wedding DJ works two or three weddings a weekend, they will have a production team in place. Their production team will set up and strike all the equipment so that the DJ can focus on being the best wedding entertainment.
Do you DJ at more than one event in a day? Given the current times of where the pandemic has birthed global virtual events, this kind of an outdated question. Therefore, only ask this question if you are booking your wedding DJ or band for ceremony, cocktail hour, and reception. If you have booked entertainment for the wedding reception only, there is a possibility that your wedding DJ can perform a virtual DJ event, in Europe, 6 hours before your event.
Will you personally be the DJ/bandleader performing at our wedding? Who is on your team? Why is this important?: Like the DJ, unless you are paying to reserve each musician, bands members can decide, very late in the game, who's playing where.
Have you performed before at our wedding venue?
What sets you apart and above your competition?
Can you describe your style of wedding entertainment?
Do you provide other services, like uplighting, gobos, or video screens?
Can you provide me with reviews from recent wedding couples?
The Music Questions
You have probably Googled your wedding band or DJ for bio and reviews. At the very least, you've checked out their Instagram to get a sense of their personality. If you have not done so, take some free time to learn more about them on social media. Make sure that you vibe together outside the music. That being said, let's dive into the music. Here are key questions to ask about wedding music.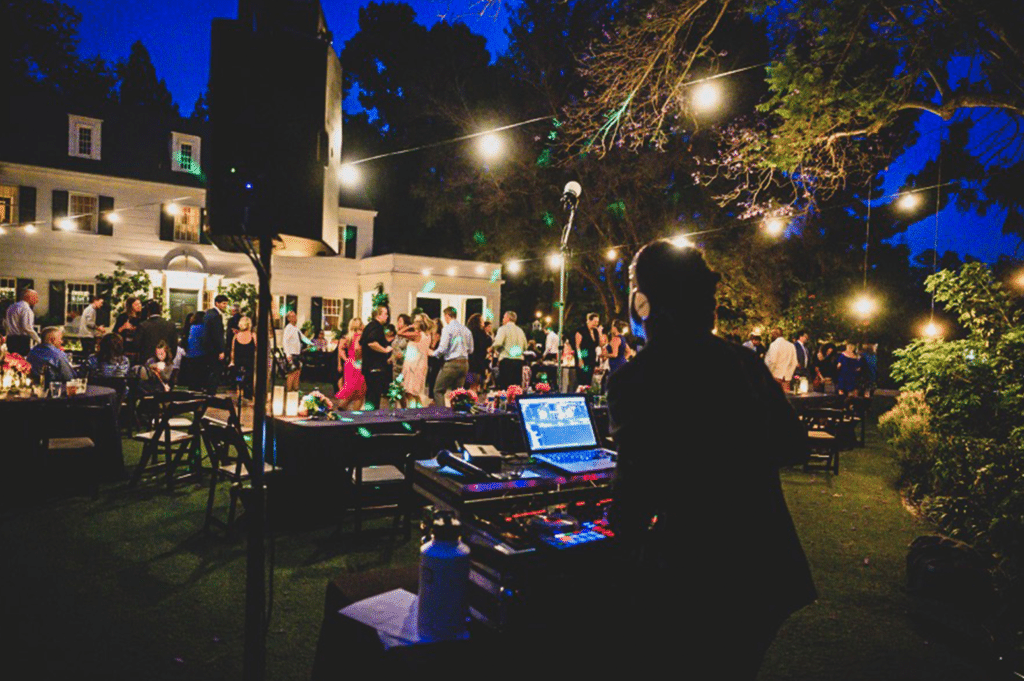 Where can I stream some of your music or a video from a prior wedding you performed?
Can you help me pick the music for my guests' arrival at ceremony, grand entrance, mother-son dance etc.? Why is this important?: It is not uncommon for wedding couples to have trouble selecting songs for the father-daughter dance, bouquet toss, last song, etc.. This is especially true if only one-half of the couple is assigned to handle all aspects of the song requests. Luckily, the best wedding DJs and bands can steer you towards the right options. They are the ultimate music resource not just during the event, but well before.
How extensive is your music library or song list? What genres can you cover? Both of these questions are one and the same. What does your wedding entertainment play (genres) and how far down the rabbit hole can they go (library)?
Is there a standard go-to list of wedding songs you play at weddings?Why is this important?: Ask them, well in advance, if they have a list of songs they typically play throughout the wedding. The wedding entertainer may prefer to leave that up to you and your fiancé. Either way, make sure to provide them with songs you have gotten down to in the past. This includes songs with your friends, parents, and close family members.
How do you keep your music library up to date?
What is the backup plan if you (the DJ) or a contracted band member becomes unavailable for my event?
How many breaks do you take and when?
If you take a break, how will the music be played?
Will you (the DJ or band leader) also act as the emcee and make the important announcements?
How would you describe your wedding emcee style?
How would you entertain my guests if nobody is dancing yet?
Do you take songs requests from wedding guests?
Can we send you a "Do Not Play" list? Why is this important?: As the evening progresses, one or two of your wedding guest's dates will make their way over to the DJ for a song request. Despite it being a good song for their group of friends on the dance floor, that song also happens to be the one song you hate. Submit a "Do Not Play" list to ensure you don't hear songs you loathe and lament.
Packages, Rates, and Contracts
The entertainment budget is one of the biggest deciding factors when choosing a wedding DJ, band, or both. However, choosing simply based on price is only the means to an end. You need to ask what the price includes. Furthermore, you don't want to discover any unpredictable fees after you've signed the contract.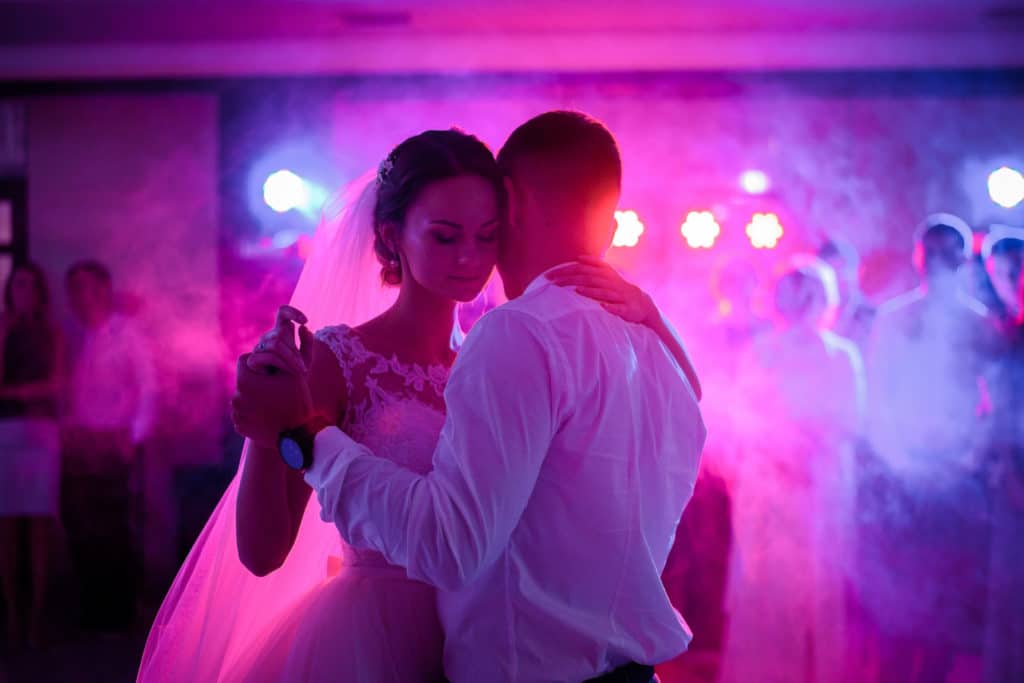 What is your rate for my wedding? Why is this important?: Not all weddings are the same. Therefore, your wedding entertainment will offer various package types. Factors including day of the week, location, guest size, total hours, and even season will affect your final quote. When discussing packages and rates, be specific in these details. A DJ's starter package may include a 2 speakers sound system that covers up to 150 people, but you are inviting 400. You may want a 12-piece wedding band until midnight, but the venue requires all vendors to break down and be off property by 1230am. If a DJ or band's rate sheet doesn't fit your vision for your big day, let them know. They will be happy to create the perfect package.
Does your rate include setup and teardown
How long do you take to move equipment from ceremony to reception locations? You may have seen this question posed on other wedding sites. The only reason it is included here is to bring attention to the fact that once an event begins, no equipment should be moved. This creates all sorts of potential hazards for guests and staff. Furthermore, it devalues the wedding entertainer's brand. There is nothing less elegant at a wedding than a DJ kicking off a reception covered in dust and sweat after repositioning 100 lbs of audio gear.
What other amenities are included outside of your performance?
Are there additional charges for services outside of the performance, like travel expenses or charges for producing special musical edits?
How much do you charge for overtime?
When will I receive a written contract?
How much of a retainer or deposit do you need and when is it due? Can I pay the full balance early? Why is this important?: Inquire if your remaining balance can be paid before (or after) the event. Settling your invoice days or weeks before is preferable to all wedding vendors.
What is your postponement policy? Are there any refund terms for cancellations?
How far in advance do I need to contract you for my wedding?
What information is needed from me before the actual wedding?
Are you commercially insured? Why you need to know this: All professional wedding DJs and bands carry liability insurance. It covers any damage that can occur to the venue, guests, performers and their equipment.
Most venues require all wedding vendors to carry liability insurance. They typically ask for this 2 weeks before the event. It is very important for you to know if all performers and purveyors at your wedding are insured. This also includes the friend who offered to bring pvc pipe, lights, some sheets for a DIY photo booth
Logistics
Schedule your final meeting and walkthrough. Find space and stage the wedding band. What remains in this final chapter are the less glamorous but still critical questions to ask.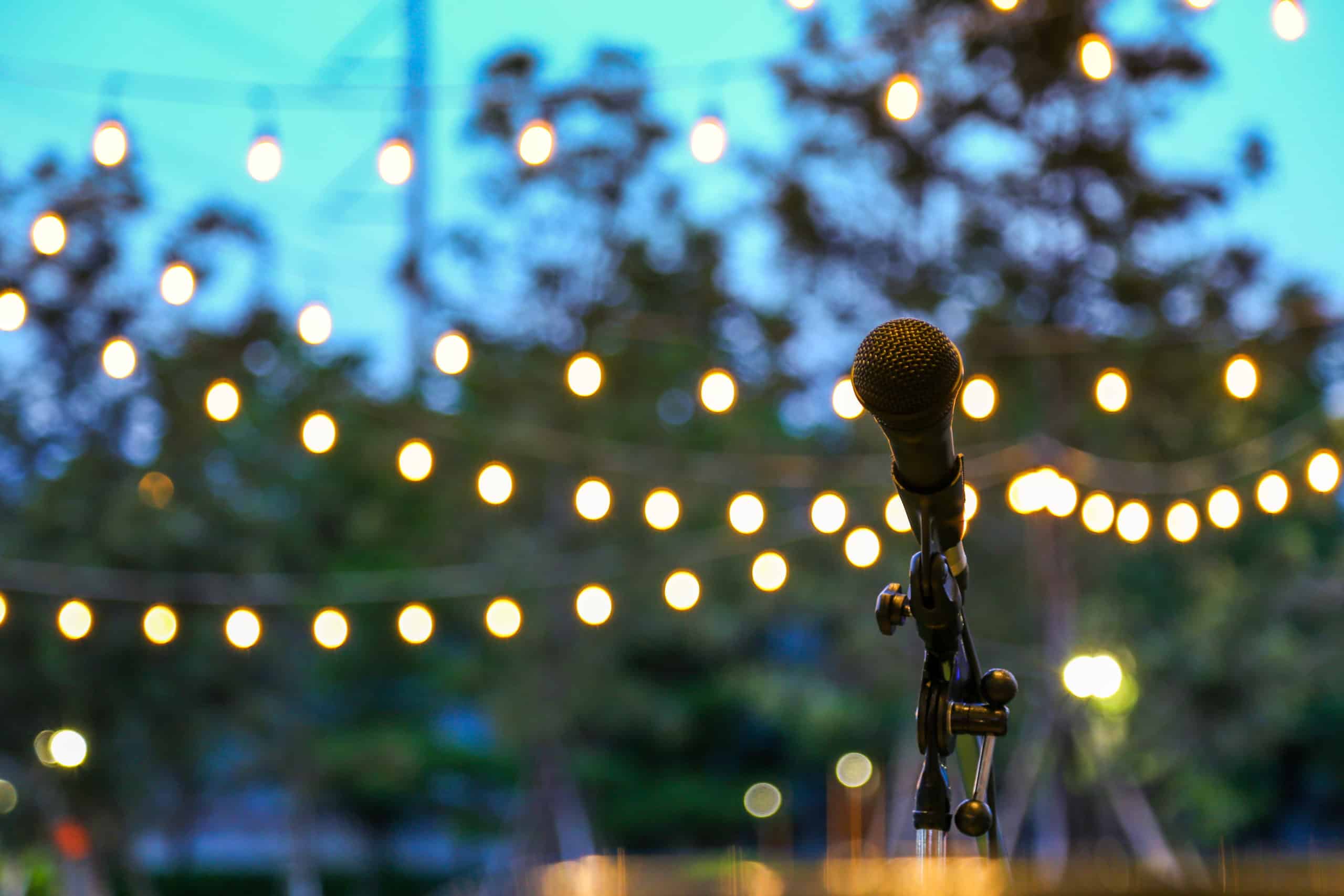 What type of wireless mics can you provide for the wedding ceremony?
Does any of your equipment require power drops (special electrical outlets) that the venue should know about?
Will you have access to backup equipment?
Do you require special staging for the band or DJ area? If the venue does not provide your required staging, am I responsible for renting it?
Do you display a logo or banner with your setup?
How much time do you require for setup, soundcheck, and teardown at the event? Why is this important?: You and your wedding planner should get a confirmed arrival time of all your vendors.A wedding vendor's arrival time should be early enough to allow for a stress free setup and walkthrough. Find out what time they estimate a complete teardown. If you foresee your performers being a part of your after party, make sure all overtime rates and scope of services have been stated in writing
How many times do we meet before the wedding?
When is the deadline for submitting our special music, general music requests, and timeline details?
What do you wear when performing at weddings?
How many vendor meals are needed? Why is this important?: Although it is common courtesy, feeding your wedding entertainers will add to the cost of your wedding. This can be a sizable cost if you're looking to book a 12-piece band.
Do you drink alcohol or smoke during the wedding?
Is there anything we should know about your style of services, technique, or schtick that we haven't discussed? Why is this important?: You have most likely covered all essential questions at this point. Still, it never hurts to double check. Have your DJ audition their crowd warmup speech. Make sure it isn't too cheesy. Cover all of your ends and see if there's anything else to discuss from the wedding band or DJ's point of view.
Ask them about themselves.
Do you have any questions for us? Why is this important?: If you interviewed a professional wedding entertainer, there was most likely a nice back and forth conversation going on the whole time. Therefore, this final question is just an easy way to wrap up the meeting…and this article 🙂
---
My name is DJ Will Gill and I'm an all-in-one DJ, Emcee, and Choreographer. I work exclusively with clients looking for a personality who is engaging, able to command a room, and provide a fun atmosphere where everyone can be free to let loose. Whether you are looking for a virtual event DJ or a live entertainer, check out my homepage and learn more about my style. I developed these questions to ask a wedding DJ and bands from my 15 years in the event industry.

Find peace of mind in your favorite dance song. The DJ can help.

– DJWillGill.Com
Home \ Questions To Ask \ 51 Questions To Ask Your Wedding DJs and Musicians