How To Get Wedding DJ Gigs
Music is the most memorable part long after a wedding. I imagine don't have to tell you that because you've probably been to a few weddings. So you have the perfect Itunes library, the charisma and charm on the mic, and the audio equipment to get the party started. Now there remains one question: How do you get gigs as a wedding DJ? My name is DJ Will Gill and I'm happy to help! This blog article will highlight the steps to help you build your brand, your business, and work more weddings. In short, advertising and leads will help you plant your feet. If you have no idea where to start, don't worry, check out these 4 easy steps.
STEP 1: Build Your Name and Network

The first step to growing your wedding DJ business is to put your name out there. In order to showcase your talents, you need a party to perform at. For that to happen, people need to know who you are and what is your business all about. Referrals and word mouth are key, especially when you first start out. In order to land referrals, you need to let everyone know about your new wedding DJ business. This includes friends and family members. Eventually, someone in their circle will be looking for a DJ. Just like that, a door to the world of wedding DJ gigs has opened.

STEP 2: Work Various Types of Events

We as wedding DJs only get one shot to get it right. Therefore, a wedding couple is going to be meticulous with their wedding vendors selection. You have to show that you have the experience and knowledge of weddings. You must prove to a wedding couple that you are one of, if not the best option. To garner proof, you have to hone your skills and your resume. This means working tons of private and public events. When you are just starting out as a wedding DJ, you can't be picky. Instead, now is the time to seize every opportunity that you are given. Reach out to local schools and inquire about providing entertainment for their upcoming dances. Make inquiries with the city council about performing at community events at special rates. There are local businesses everywhere in which to offer DJ services for their holiday parties or events. As you crush these events, ask your clients to leave you feedback and 5 star reviews on Yelp, Google, Wedding Wire, and The Knot. All of this social media love will help to put your name out there and grow your network.

STEP 3: Get Into Working Weddings

Once you have built a nice portfolio of various events, you want to break into doing wedding DJ gigs. The best way to get into the wedding DJ business is through past clients.6 degrees of separation and someone you've worked for knows someone who is having a wedding. If you provided outstanding service before and during the event, your client will be more than happy to refer you. The next tool is connecting with other wedding and event professionals. When you join a vendor network like ABC or WIPA, this will be tantamount to your wedding DJ business. Vendor networks throw multiple event mixers throughout the year. Continuously showing your face and having general conversation will bring about inquiries and leads from other wedding professionals. This is not the time to be shy. This is the time to grow your business.

STEP 4: Market Your Wedding DJ Business

Marketing is the fourth step to boosting your wedding DJ business. Similarly, it is the final step in how to get wedding DJ gigs. By showcasing your brand, you will ultimately elevate your business. We won't dive too much into SEO, but having a fast and functional website will not only please wedding couples, but the almighty Google as well. Social media platforms like Instagram and Facebook where you can post your work will keep you relevant with followers. There are too many to name, so I will exclaim Get your wedding DJ business out there! Run ads on Google & Instagram. Subscribe to vendor lists on popular wedding wedding blogs. Wedding couples often seek wedding blogs for inspiration as they plan their wedding. Sites like WeddingChicks.com, JuneBugWeddings.com, and StyleMePretty are just a few that have vendor lists you can become a part of.
Go Get Those Wedding DJ Gigs!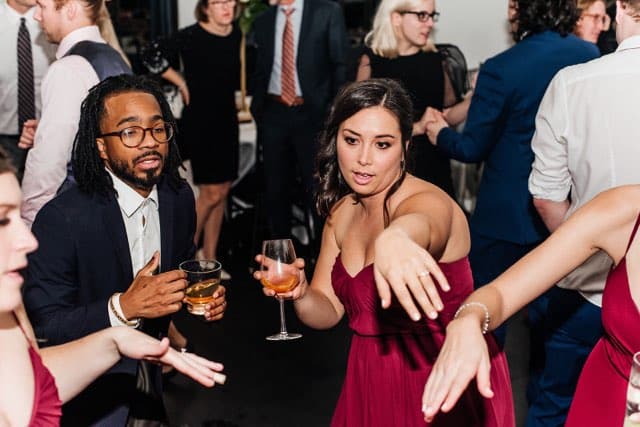 In summary, booking wedding DJ gigs doesn't have to be rocket science. I hope this article has helped. I've been DJing various events since 2001. I started DJing weddings in 2005. That isn't to say that it took me 4 years to get a wedding. That is to say, I just didn't know how easy and lucrative they were. Now that you know, set your wedding DJ price, get out there, and get those wedding dance floor jump!
For more DJ Tips check out my DJ tutorial page. Check out these steps on How To Get Corporate DJ Gigs.
Home \ How To \ How To Get Wedding DJ Gigs